Faith That Goes Beyond The Natural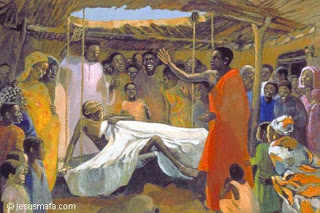 Mark 2:1-12    
And again He entered Capernaum after some days, and it was heard that He was in the house. Immediately many gathered together so that there was no longer room to receive them, not even near the door. And He preached the word to them. Then they came to Him, bringing a paralytic who was carried by four men. And when they could not come near Him because of the crowd, they uncovered the roof where He was. So when they had broken through, they let down the bed on which the paralytic was lying.
   When Jesus saw their faith, He said to the paralytic, "Son, your sins are forgiven you."And some of the scribes were sitting there and reasoning in their hearts, "Why does this Man speak blasphemies like this? Who can forgive sins but God alone?"
   But immediately, when Jesus perceived in His spirit that they reasoned thus within themselves, He said to them, "Why do you reason about these things in your hearts? Which is easier, to say to the paralytic, 'sins are forgiven you,' or to say, 'Arise, take up your bed and walk'? But that you may know that the Son of Man has power on earth to forgive sins"— He said to the paralytic,"I say to you, arise, take up your bed, and go to your house."     Immediately he arose, took up the bed, and went out in the presence of them all, so that all were amazed and glorified God, saying, "We never saw anything like this!"



Just imagine being there

. . . Here we are in a house that now has a large gaping hole in the roof and four men looking down upon the scene below. They had not stopped until they had broken through the roof to get their friend or perhaps even their family member down to Jesus. Then we hear Jesus say, "Your sins are forgiven you." We are all astonished! They had brought him to the Healer and they found the Messiah, the Savior as well. Their faith and ours have gone far beyond our expectations! BUT then the religious voices begin to stir and arise bringing doubt to our hearts and minds. " Who is this man who says that He can forgive sins when only God can?" Jesus then asks them if it was easier to forgive sins or to heal a man of lameness? Then He tells them that He is not only the Healer but He is also the Messiah Himself by telling the man to get up and walk home. 

Can you see the faces of the scribes as they try to object but are silenced by the man getting up and walking?
Can you imagine this man's joy and gratitude? Just moments before he had to be carried and now he is walking carrying the very bed on which he had been lowered.
Can you imagine the joy of his family and friends as they cry and hug each other while others are struck with awe? 
Can you imagine the joy of the men on the roof as they begin to hug each other in joy and begin to dance and sing praises to GOD?

Debris continues to fall through the roof from their joyful jumping but by now we do not care for we are all on our feet dancing and praising and glorifying God. Five but at least four men had faith that would not be quenched until they got what they wanted. They defied all obstacles and disregarded all costs and broke through a roof to get to Jesus. And they got more than they went after. Not only was their friend healed but he also received the forgiveness of sins. He was not only made whole physically but he was healed mentally and spiritually as well. They had lowered him down to the feet of the Healer and did not realize that they had laid him before God Himself. 

They had faith that went through the roof!

May we all have faith that will not quit until we go beyond the limits of earth and breakthrough to the very Throne of God!